The interior is the part of the car that is experienced most, by both driver and passengers, and it is the space that is changing more radically, thanks to digitization and the use of sustainable materials. Let's see how.
Driving an Audi is an experience in which all the know-how, technology, and passion of the Ingolstadt brand is reflected. An experience that is not only about the sound, exterior shapes and driving behavior, but also about the design and functionality of the interior. A crucial moment is that moment of silence after you close the car door, when the interior lights up and the driver's hands feel the steering wheel. This is why the interior must be an extremely functional place where all occupants can feel comfortable.
For decades, the interiors of Audis have been appreciated by users because of their elegant design, focused on performance and innovation. In this scenario, digitization and sustainability are introducing new concepts and innovative solutions.
From radio to TV
The first car radios appeared in the late 1920s, but the beginning of in-car entertainment dates to the early 1970s, thanks to the introduction of music cassettes, with which passengers could create their own playlists. The first Audi on which a "cassette radio" could be optionally mounted was the 100 LS C1 of 1973; this accessory and its centrally mounted speaker changed the shape of the dashboard. From then on, hi-fi systems became more widespread in the automotive industry: the first CD players were available in 1990 on the Audi V8 D1, and in the 1998 Audi V8 D2 one could even watch TV with teletext (when the car was parked).
Digital features also increased in the same years, such as the spectacular digital instrumentation of the Audi Quattro from 1983, which also had an on-board computer that could talk to the driver: its repertoire consisted of 15 sentences recorded by a radio presenter.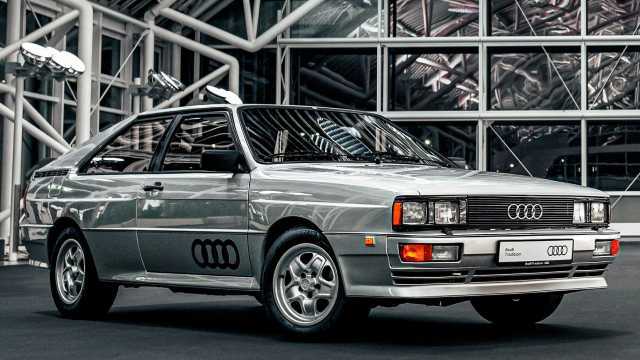 Audi Urquattro
From on-board computer to virtual reality
The Audi Quattro's on-board computer was also capable of doing math: it recorded the time, fuel consumption, distance traveled, tank capacity, and in this way calculated the amount of fuel remaining in liters. For that time it was a big step forward, demonstrating Audi's willingness to offer sophisticated innovations, as indeed it has never failed to do.
Today, the state of the art in-vehicle technology is represented by holoride, which can transform the journey of rear passengers into an experience between the virtual and the reality. Simply put on the VR headsets and pick up the controller to immerse yourself in virtual reality, which adapts content in real time to the vehicle's movements. If the car changes speed or turns a corner, the character moves accordingly. In the game "Cloudbreakers: Leaving Haven," a robot moves through a futuristic landscape, and the journey becomes a multimodal game, with positive side effects: the risk of getting motion sickness is reduced as visual and sensory experiences are synchronized.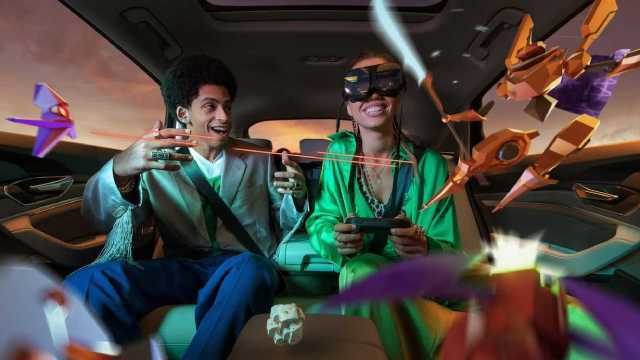 Augmented reality for safety
In addition to entertainment, safety and comfort are also very important, such as those determined by the augmented reality head-up display in the Audi Q4 e-tron range. With augmented reality, the real world that the viewer observes is supplemented by digital elements. In the specific case, the augmented reality head-up display shows important information on the windshield in the driver's field of vision.
Indications provided by driver assistance systems and directional indications from the navigation system are visually overlaid at the corresponding point in the real world and represented dynamically. Thus they virtually float at a distance of about ten meters in front of the driver and the displays can be read in an instant, improving driving comfort and safety especially in poor visibility conditions.
Car2X and functions on demand
Audi is focused on connecting vehicles to their surroundings with Car2X services. In many new models there are more than ten antennas invisible from the outside that transmit and receive audio, LTE, Bluetooth and GPS signals, enabling to offer new services and functions. For example, drivers can be notified of available parking or charging stations nearby, or receive timely alerts such as the presence of ice, as each vehicle can receive information from the entire connected Audi fleet.
Another innovative service is "functions on demand," which gives users the chance to add selected optionals after the car is purchased, in areas such as driver assistance, lighting or infotainment. For example, LED headlights can be upgraded to LED matrix, with intelligent high beam control, or park assist or smartphone interface.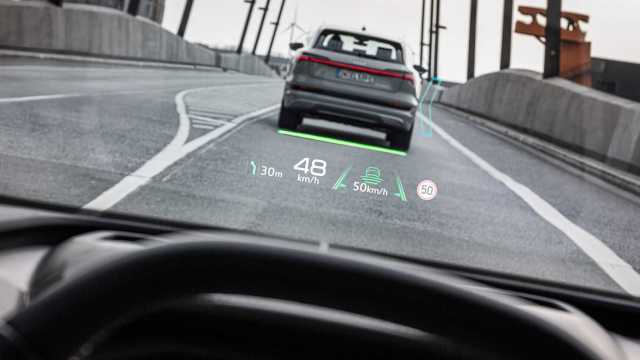 Premium Electric Platform
For the Ingolstadt-based automaker, the next major step is the launch of the Premium Platform Electric (PPE), which will take both electric drive and digitization to a new level. The PPE platform and the new E³ electronic architecture, developed together with CARIAD, will define a new digital premium experience with a focus on user needs. Cars will be connected to the Volkswagen Automotive Cloud to receive over-the-air updates; they will also have improved 5G-based connectivity, supporting safety, driving and navigation functions.
urbansphere and grandsphere
Audi's future-looking concept cars brake conventions that have been in place for decades. The space surrounding passengers is redefined through the arrangement of electric drive components, while increasingly autonomated driving functions allow the interior to be designed more and more as a living and experiential space. Audi urbansphere concept is an example of a vehicle designed for megacities, which can be used as a lounge or a mobile office: it has a very large interior with four individual rotating seats that allow passengers to sit facing each other. Those who want some privacy, however, can cover the head area with a screen mounted behind the headrest. But passengers can also share content or participate in a video call, using a large OLED screen that swivels from the headliner to the space between the rows of seats.
Inside Audi grandsphere concept, however, there are no screens or visible instruments: when turned on with a touch of the finger, controls built into the surfaces activate but are not physically tangible because they are high-resolution projections on surfaces below the windshield.
Audi dimension
On the Audi activesphere concept, virtual reality is elevated to a new level. Innovative mixed reality headsets are available individually for all occupants and offer a view of the real environment, while simultaneously displaying 3D content and interactive elements in the field of vision. All driver-relevant data, such as driving conditions and navigation, can be superimposed. The most important technical innovation compared to the holoride system available on standard Audi cars concerns the adaptation of augmented reality to mobility, creating the perfect synthesis of real environment and digital reality.
The "sphere" concept cars demonstrate Audi's vision of sustainable premium mobility and all share both electric drive and autonomous driving. This technical basis allows for very innovative designs, especially in terms of the interior and the quality of life on board, which enters a new dimension, both in terms of productivity and entertainment.
Sustainability in the interior
As for the interior, sustainability has become increasingly important at Audi since the 1990s. "That's when we first used organic insulation material for the door panels of some models", says Ralf Friese, Audi Tradition expert. "And in some cases, we were already using naturally tanned leather as well."
Today, sustainability requirements have risen significantly at Audi: resource conservation, for example through recycling, plays an increasingly important role. Therefore, Audi uses as many recycled materials as possible with the aim of not only reducing carbon dioxide emissions but also making economical and efficient use of materials. In the Audi Q4 e-tron family models, more than two dozen parts already contain recycled materials. For Audi Q8 e-tron, seat covers made from recycled PET bottles, old textiles or fiber scraps will be available as an option, and plastic covers of the seat belt buckles will be made in part from mixed waste plastics.
Audi's latest concept cars also contain many sustainable or recycled raw materials. For example, the Audi urbansphere concept's seat cushions are made from recyclable polyamide (Econyl) while the vehicle's armrests and rear seats contain bamboo viscose. Bamboo grows faster than ordinary wood, absorbs a lot of CO2 and its cultivation does not require herbicides or pesticides. All this is in line with a progressive conception of premium quality, which inevitably also involves sustainability.
Source: AUDI AG
VGI | Responsible OU: VP | Creation date: article date | Class 9.1