The network of 42 coding schools is expanding; it is a key resource in the Volkswagen Group's transformation from a car manufacturer to a provider of software-centered mobility services.
Transforming a Group that for decades has always dealt with cars production into a software-centered mobility provider requires changes at all levels, including employee training. That's why, in spring of 2021, the Volkswagen Group took part, as founding member, in the creation of 42 Wolfsburg. T
raining the next generation of highly qualified software coding experts is a growing commitment. Thus, the Group and its partners Bayer, Capgemini, Microsoft, SAP, and T-Systems - along with CARIAD, a software company of the Volkswagen Group - have funded the new 42 Berlin coding school with an investment of 11 million euros. After 42 Wolfsburg, 42 Heilbronn and 42 Prague, 42 Berlin is the Group's fourth investment within the 42 network.
The digital and connected car
"Digital competence and IT expertise are central for the Volkswagen Group and will be increasingly so. Supporting the 42 schools is an important lever for us in driving our transformation to a software-centered mobility provider and providing us with access to highly qualified software programmers" said Gunnar Kilian, Member of the Board of Management of the Volkswagen Group for Human Resources and Truck & Bus, during the opening ceremony of 42 Berlin.
Software is also the basis for new, data-driven business models, and in this regard the Chief People Officer of CARIAD, Rainer Zugehör, added: "The car of the future is a smart digital device on wheels. At CARIAD, we work on the automated and networked car for the Volkswagen Group. That is why we are continuously expanding our software expertise and are always looking for enthusiastic, motivated and talented people. 42 Berlin is a new pillar of software training, an important development site for us and the fastest-growing technology hub in Europe".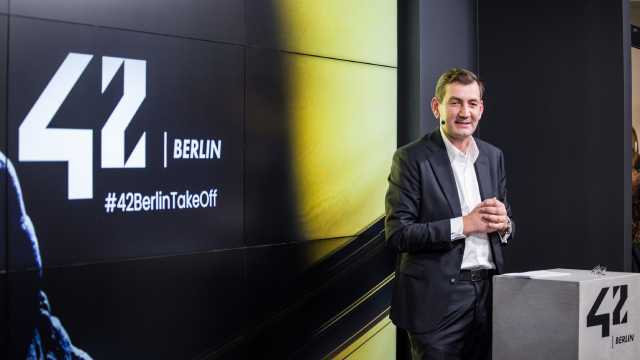 Gunnar Kilian, Member of the Board of Management of the Volkswagen Group for Human Resources and Truck & Bus
Group investments
Volkswagen and CARIAD have invested a total of €11 million in the 42 Berlin coding school, and the potential of the 42 Network is also taken into account by other Group brands that are giving their support. Audi, for example, supports 42 Heilbronn and 42 Wolfsburg with 1 million euros per year through 2025, while ŠKODA has been funding 42 Prague since May 2022 and will continue for three years. Porsche, meanwhile, awards five scholarships each year for students of 42 Wolfsburg and 42 Heilbronn.
"By supporting four of the 42 schools, we are leveraging crucial synergies within the Group and taking a joint approach to dealing with the shortage of skilled workers. This demonstrates the power of the Group when joining forces and working together to address major strategic topics", added Kilian.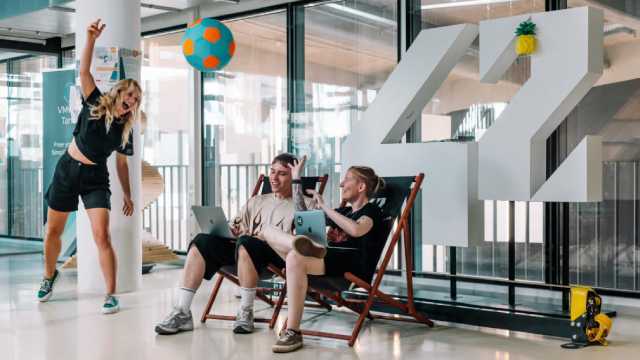 A school open to all
42 Berlin is the latest offshoot of the "42" software talent factory opened in Paris in 2013. The core of the 42 training concept is a peer-based learning model, without professors or lectures. The approach to learning is "gamified" and engages students by taking them from one level to the next as they study as a community and help each other improve along the way. In this way, social skills such as the ability to collaborate, solve problems independently, and deal with errors constructively are strengthened in addition to programming skills.
Schools 42 are based on equal opportunity, inclusion and openness, with the aim of making computer science education accessible to more people. There are no formal admission criteria; no prior knowledge in computer science or degrees are required. The only admission requirements are a minimum age of 18 and passing a multiweek study and testing program that tests algorithmic thinking and organizational skills, among other things.
A model for the future
According to Kilian, the 42 coding schools represent the future of education: "As one of the largest employers in the IT sector in Berlin, we are convinced that we are creating a unique educational powerhouse that will become an example for the German IT education landscape. In times of a global shortage of skilled workers, it is also our duty to continue reducing entry barriers to education, particularly in STEM subjects, and to ensure equal opportunities. The 42 schools give everyone the opportunity to access a free study program in a field with excellent future prospects".
On average, students of the 42 programs complete their training as full-stack software developers in three years, graduating with a level of software expertise comparable to a master's degree in computer science.
A cutting-edge network
42 Wolfsburg was the first coding school in the 42 network supported by the Volkswagen Group and has a key role in the network, as it will be the flagship in software development for the automotive ecosystem. A specialization that will be accompanied by a number of courses created exclusively for 42 Wolfsburg itself. As a founding partner, the Volkswagen Group contributed 3.7 million euros to the school's funding in the first year and will continue by providing two million euros annually in subsequent years.
At 42 Berlin, the focus is on topics related to cyber-physical systems, artificial intelligence and mobility. Both schools have a capacity of 600 students each.
Source: Volkswagen AG
VGI | Responsible OU: VP | Creation date: article date | Class 9.1