More than 3,200 vehicles including cars, motorbikes, bicycles and scooters and more than 120,000 users: these are the numbers of Giravolta, the multimodal mobility platform developed by SEAT:CODE, now available in six European countries. The goal is to reach 10,000 managed vehicles within the next few months.
Being able to use cars, motorbikes, bicycles and scooters through a single application thanks to Giravolta mobility software. The multimodal mobility platform developed by SEAT:CODE, the software development centre of SEAT S.A., continues to grow, reaching six European countries: Spain, Germany, Ireland, Finland, Sweden and Greece. Created to operate and manage vehicle fleets digitally, it is designed to offer connected and electric mobility for companies and cities.
Target of 10,000 vehicles managed
Giravolta currently has more than 120,000 users, who can use a fleet of 3,200 vehicles, including cars, motorbikes, bicycles and scooters, and the goal is to reach 10,000 vehicles in the coming months.
"Digitalisation, together with electrification, are the main transformations facing the automotive industry and in-house software development is the key to addressing them. We are proving", said David Powels, Vice President of Finance and IT at SEAT S.A., "that the start-up spirit of SEAT:CODE combined with the experience of a manufacturer like SEAT S.A. is the perfect match for the future".
International expansion
"Making the international leap is a very important step for SEAT:CODE - recalled CEO Carlos Buenosvinos - which already markets its own products, such as Giravolta. Thanks to this platform we can optimise the vehicle fleets of cities and companies, reduce environmental impact and improve traffic efficiency, including parking in cities".
Software developed in Barcelona
In the last year SEAT:CODE has developed 65 projects for SEAT S.A., the Volkswagen Group and also for external companies and public institutions. SEAT MÓ, the urban mobility brand, was the first to use Giravolta to manage its fleet of electric vehicles in Barcelona and Hospitalet.
Since then, other companies have also adopted this software, such as Esteve, which has made zero-emission vehicles available to its employees. Bleeper, Dublin's bike sharing service, also uses Giravolta to manage its fleet of more than 1,000 bikes in the city.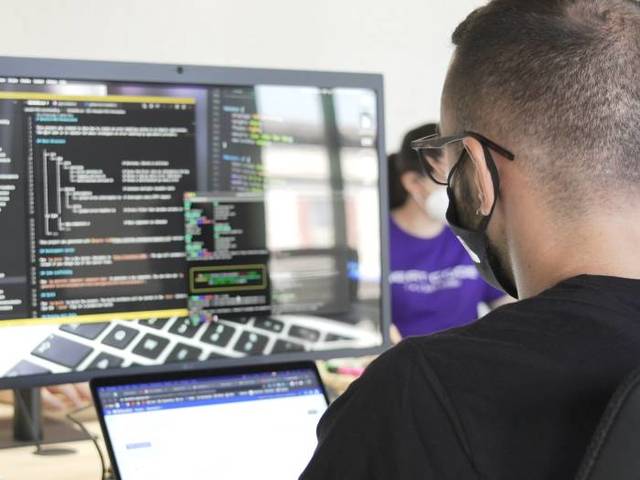 Supporting small cities
Connectivity and digitalisation are not just the prerogative of metropolises or large urban areas. This is demonstrated by the MOBICO plan, implemented by SEAT:CODE in collaboration with the Association of Municipalities for Mobility and Urban Transport (AMTU), an electric car sharing service capable of connecting any point in the Conca d'Òdena area with the capital Igualada. In addition to reducing pollution and freeing up parking spaces, it allows citizens from less connected cities to have greater freedom of movement.
Two years of digitalisation
SEAT:CODE was born in 2020 and currently employs more than 200 professionals of 16 nationalities, mainly software engineers, data scientists, mobility experts and UX/UI designers. Together with the company's production department, it has developed a predictive maintenance system that foresees possible incidents in the robots on the line.
In addition, thanks to Giravolta, SEAT S.A. employees can move between the company's facilities more efficiently using the car sharing and mobility services offered.
Source: SEAT S.A.
VGI | Responsible OU: VP | Creation date: article date | Class 9.1