Despite a complicated economic scenario, more than half of Europeans oriented to purchase a car in the short term are interested in an all-electric (BEV) or plug-in hybrid (PHEV) model, and they don't intend to give up their individual mobility.
Spend less and live more consciously, to avoid having to give up too much: this is the dominant thinking in Europe in times of energy crisis and inflation, so one in three people are restricting their mobility and plan to travel less by car. Nevertheless, individual mobility remains essential for many people, as does owning a car.
These are the findings of a survey carried out by mm customer strategy consulting firm with support from Volkswagen; 7,518 people interviewed in Germany, France, the United Kingdom, Italy and Spain (1,500 per country) between the end of October and the beginning of November last year, when the inflation rate in the European Union was 11.5 percent.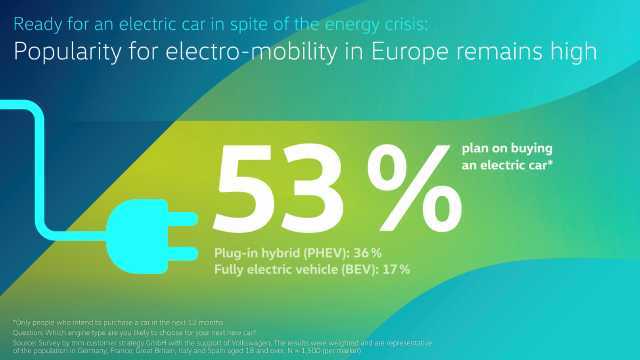 Toward electric
In this scenario, more than half (53%) of the Europeans surveyed who plan to purchase a car in the next twelve months plan to choose an electrified model, i.e., plug-in hybrid (PHEV, 36%) or 100% electric (BEV, 17%). This is a significant figure, confirming that the majority of Europeans value electric mobility.
Volkswagen is working to offer an ever-wider range of electric models to meet the demand of as many people as possible: in the next few years there will be a perfect option for everyone, from the entry-level electric car with a target price of under 25,000 euros, to the new flagship ID.7. "Most Europeans are open to the idea of electric mobility, and we have the task of offering an even wider choice to meet every need. By 2026 we will launch ten new electric models: this is our contribution to meeting the fundamental need for mobility, " explains Imelda Labbé, Board Member for Sales, Marketing and After Sales at the Volkswagen brand.
Volkswagen's goal is to become the most desirable brand for sustainable mobility, and from 2033 at the latest it will offer only electric models in Europe.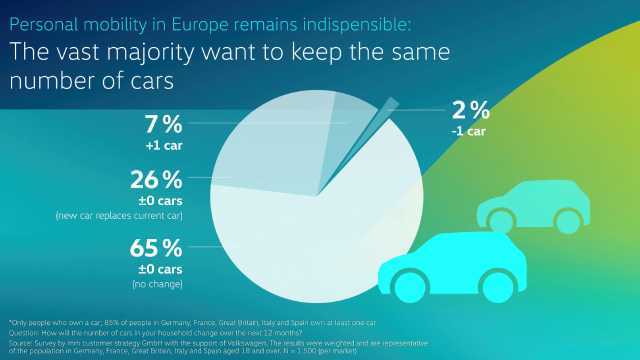 Individual mobility
The survey also shows how the current economic situation only partially affects the sphere related to individual mobility: only 39 % of those who own a car have decided to travel less, and only 34% drive more efficiently and thus more economically, to contrast the high cost of fuel. Saving money is also the order of the day in other aspects of daily life: 43% of respondents reduced their use of heating, 42% reduced their shopping, and 41% reduced their use of electricity and hot water. Reduction in car travel, on the other hand, ranges from 33% in Germany to 46% in the UK.
Ninety-eight percent of people surveyed said that they plan to maintain or increase the number of cars in their household within a year; only 1 percent will sell their car despite wanting to keep it. These percentages cover all income brackets; something that underscores how important individual mobility remains in Europe.
In the city and also outside
The survey results also show that e-mobility is developing outside urban areas too. Nearly half (45 %) of the electric car drivers surveyed live in towns with fewer than 20,000 inhabitants. Taking the example of Germany, in 2022, 31. 4% of car registrations were for electrified vehicles, specifically 362,093 plug-in hybrids (13.7%) and 470,559 BEVs (17.7%), a growth of 11.3% and 32.2%, respectively, compared to 2021. There are currently more than 840,000 all-electric cars on the roads in Germany, and analysts predict that this number will grow to approximately 11 million in 2030 - an amount that would represent a quarter of the current German car fleet.
This is also why Volkswagen is accelerating its transition to e-mobility with its "ACCELERATE" strategy, which aims to transform the company into a software and data-driven provider of sustainable mobility.
Source: Volkswagen Newsroom
VGI | Responsible OU: VP | Creation date: article date | Class 9.1