What do new generations expect from in-vehicle entertainment? CARIAD conducted a study with Newzoo, a data analytics company focusing on gaming, to answer this question.
Video games are the next frontier of in-car entertainment. It is a market that is taking shape globally, reflecting the shifting motivation of both owners and passengers. Evolving technology is enabling the creation of new in-car experiences, transforming the car into a novel space for gaming, perhaps leveraging vehicle dynamics to increase engagement. CARIAD holds this sector in high regard, and to better understand its prospects, it has conducted a joint study with Newzoo - a gamer data company - that will allow an in-depth assessment of all the characteristics of gamer culture and their relationship with in-car gaming and mobility. The goals of the study are two: first, to understand the desires for in-car entertainment, and second, to learn about the demographics of gamers in three major automotive markets-Germany, the United States, and China.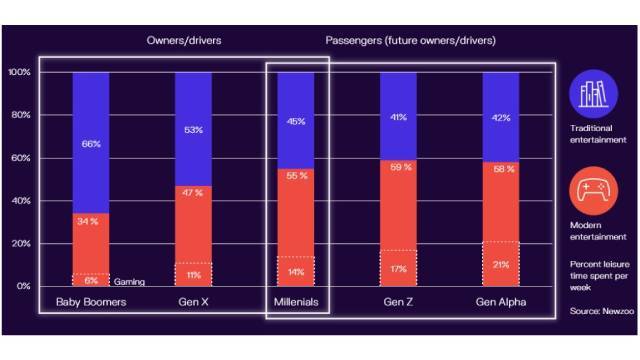 Generation Z and Generation Alpha
The results highlighted the importance of in-car entertainment, including as a form of integration into the digital lifestyle of gamers: 90 percent of Generation Z members play games regularly. Both Gen Z and Gen Alpha will have a significant impact on the gaming and automotive landscape, driven by different expectations and desires regarding in-car entertainment. In China, for example, these new generations want to spend quality time engaging in enjoyable and relaxing games. That is why CARIAD has already integrated such video games into the Audi models sold in China, and users are enjoying them very much. It should be noted that, according to data from the study conducted, Chinese users play more games than those in the United States and Germany. While in Germany and the U.S. the average gaming time is 3 to 6 hours per week, in China it grows to 10 to 15, and this passion for video games reflects a larger part of Chinese digital life.
Time in the vehicle
In all three markets, however, the ability to interact and engage with games on the move is particularly valued. Younger Chinese gamers switch smoothly from static to dynamic gaming, but since the availability of in-car video games is still limited, they mainly use online platforms with smartphones and tablets. A recurring theme that emerged from the study was "If I can play games and I am comfortable, then I would be happy to spend extra time in a car". Moreover, the Chinese public in a sense expects in-car gaming innovations, demonstrating a high technological affinity between the video game market and the car market. In other words, Chinese users are already interested in or attracted to in-car video games and predisposed to turn their cars into entertainment consoles to have a digital experience even on the road. Therefore, the next generation of vehicles will have to be able to amaze these users.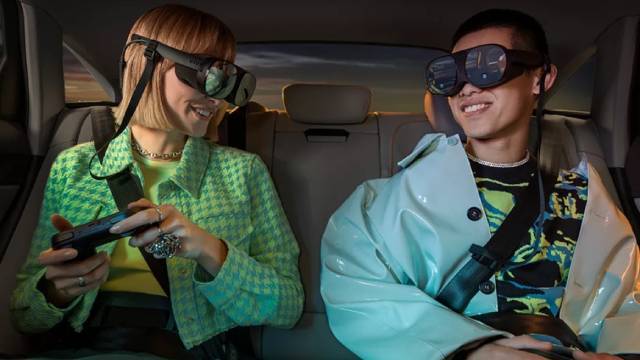 Holoride
The most complex demographics to contextualize are those concerning the intuitiveness of touchscreen use for entertainment. Cloud gaming, although a segment that is bound to grow in importance, is not yet so highly regarded, whereas advanced hardware and a good Internet connection are much more so. Based on these considerations, it seems that the benefits of cloud gaming need to be promoted and associated with a marketing message to be appreciated by users. CARIAD is currently focused on introducing new features into existing infotainment systems: one example is holoride, which is already available. The holoride technology - to whose development CARIAD also contributed - uses the car's motion data to deliver entertainment through virtual reality viewers: the gaming experience (educational content is also available) is synchronized with acceleration, braking, and steering. In the future, interaction will be even closer, with expanded gaming experiences and a convergence of physical and virtual spaces, termed "Metaverse-On-Wheels".
Group Application Store
The Group Application Store was launched by CARIAD in early 2023 and will be available for all Volkswagen Group brands. Starting with Audi models, the store has opened vehicles to third-party developers such as Spotify, as well as games offered by Famobi, FRVR, Mobile Game Hub and Vector Unit. Building on the scalable platform approach, CARIAD is deploying in-car gaming as part of a high-quality in-vehicle experience. The results of the study conducted with Newzoo highlight key trends for CARIAD and Volkswagen Group brands, enabling the development of new features that improve the in-vehicle lives of both users and video game enthusiasts.
Source: CARIAD
VGI | Responsible OU: VP | Creation date: article date | Class 9.1