Focus on human rights and sustainability: Audi continuously monitors its more than 14,000 suppliers with the goal of continuous improvement.
Audi Supply Chain Sustainability Manager Sarah Schwellinger's day begins with emails and phone calls to various suppliers. This is an ongoing discussion necessary to answer questions about the sustainability requirements that each supplier must meet or the role of suppliers in helping to ensure that human rights are respected, including subcontractors.
This is one of the activities to which Sarah Schwellinger devotes several mornings each week, taking the time to provide detailed answers: "Both as a company and as customers of our suppliers we have to accept responsibility and take a stand with our standards. Direct contact with companies that are part of the supply chain is important if we want to make a difference in the long term".
Complexity
Audi works with more than 14,000 suppliers from 60 countries. "Given the large number of suppliers and subcontractors, we face a very high level of complexity on a daily basis".
A few years ago Audi created Sustainability Supply Chain, a dedicated organizational unit within Procurement, to keep track of every step. This team, in which Sarah Schwellinger is joined by other colleagues, works closely with suppliers to achieve several goals: ensuring that CO2 emissions in the supply chain are reduced, implementing closed material cycles, harnessing new technologies to increase the sustainability of supply chains, and verifying that working conditions in partner companies meet international standards.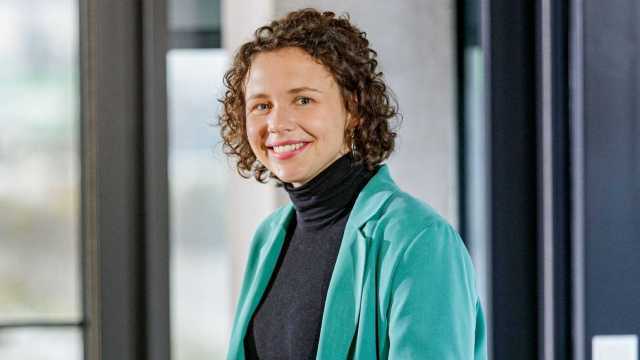 Sarah Schwellinger, Supply Chain Sustainability Manager at Audi
Human Rights
"We usually have indirect influence, which sometimes becomes a direct one, on all people involved in the supply chain, on their work, their lives and their families. We deal with it in a very responsible way and want to leave a positive mark", adds Sarah Schwellinger about her work. "When we talk about suppliers with our colleagues from Purchasing, I represent these people who can't be there".
In 2007, while studying politics, Sarah Schwellinger completed an internship with an agency that advised the Hessian State Chancellery (one of Germany's sixteen federal states) on sustainability. This experience ignited in her a passion for the topic, so much that in 2010 she earned a master's degree in sustainability science. "We covered everything, from microplastics in the oceans to legal issues", Schwellinger resumes. Human rights also played a major role in her studies, just as they do now in her work at Audi.
Sustainability Rating
Schwellinger and her team apply the Sustainability Rating (S-Rating) introduced in 2019: it is a tool that the company and its suppliers use to ensure compliance with human rights, occupational safety and environmental protection throughout the supply chain. All these aspects are verified by inspecting the human rights policy and environmental management system for suppliers and subcontractors, or by interviewing employees during on-site inspections.
A positive S-Rating is a prerequisite for awarding contracts to suppliers and contributes to sustainability in the supply chain. Likewise, a negative rating is taken very seriously, and at that point the supplier must necessarily apply correctives and pass an additional on-site check. "The aim is not just to uncover problems but to solve them together. To prevent them, we offer our suppliers regular trainings and educational materials", Schwellinger explains.
Since January 1, 2023, cooperation in the supply chain has become even more relevant as the Supply Chain Due Diligence Act, which governs compliance with human rights and environmental due diligence, has come into force.
Diversity and inclusion
Once she has finished answering questions from suppliers, Sarah Schwellinger moves on to another area close to her heart: diversity and inclusion. In this case, Sarah Schwellinger and her team's efforts are to create awareness around these topics, for example by including them in training materials for suppliers or organizing workshops for partners.
Diversity and inclusion play a major role in the selection of new suppliers: Audi intends to expand cooperation with companies by leveraging not only their innovative strength but also by creating added value in the supply chain and in society.
Source: AUDI AG
VGI | Responsible OU: VP | Creation date: article date | Class 9.1